Journey into Thailand at Olive Tree, InterContinental Singapore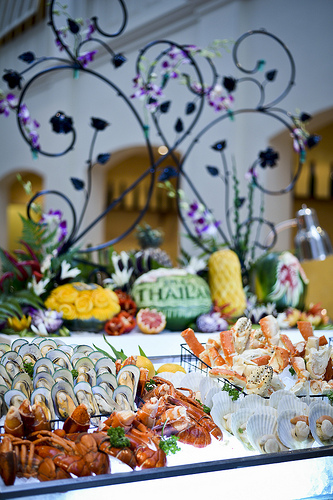 Last Friday, I was invited to the opening night of "Journey Into Thailand" at Olive Tree, InterContinental Singapore. Available during dinner from now till 13 October, a delectable array of traditional Thai specialities will be laid alongside the typical hotel buffet spread.
Thai-style Fruit Carvings behind the Chilled Seafood Counter
Image reproduced with permission from InterContinental Singapore
I skipped the typical buffet spread of chilled fresh seafood, salad, starters, assorted sushi and sashimi as I was here for the Thai specialties!
Guest Chef Surasak Kongsawat chopping up the Roast Chicken
I love Thai food and was thrilled at the opportunity to sample the cuisine of guest chefs such as Chef Surasak Kongsawat and Chef Jareuk Sriaroon from the Thailand Culinary Academy in collaboration with local Thai culinary expert, Chef Chutnapa Hansongkhram.
Thai Chicken Noodle "Live Station"
It was a pretty cool evening and having rushed down to dinner from a freezing office, I was yearning for a hot bowl of noodles in soup to warm me up.
Thai Chicken Noodle Soup
The smooth, delicate tasting ribbons of rice noodles went perfectly with the herb-infused broth. The noodles was topped with succulent chunks of stewed chicken. I found the flavour of the broth to be slightly bland so I added some fish sauce to my broth. This dish is worth a try, especially if you're looking for a light and warm dish.
Sampling Thai Appetizers from Journey Into Thailand's Buffet Line
I love Thai Appetizers for their diversity, rich flavours and interesting mix of textures! Let's start from the top of the plate (12 o'clock position) where a crisp fried pastry shell known as Krathong-tong or Golden Cup (referred to in Singapore as Kueh Pie Tee) sits half-filled with a tasty minced pork and corn filling. Unlike the local Kueh Pie Tee that's filled with savoury stewed radish and topped with boiled shrimp, chili sauce and coriander leaf, the Krathong-tong bordered on the sweet side. To its right was some Pla-kung (Prawn Salad with Roasted Chilli Paste). This was delicious as the smoky and slightly spicy flavour of Roasted Chilli Paste (think Mae Pranom's Nam Prik Prao chili paste) went perfectly with the sweet, crunchy poached prawn.
Yam-pla-duk-fu (Fluffy Catfish & Green Mango Salad)
The brown cracker-like item with shredded mango on top was Yam-pla-duk-fu (Fluffy Catfish & Green Mango Salad).  It was excellent as the crisp batter gave way to reveal its tasty floss-like stuffing of fluffed up shredded catfish. This was perfectly paired with crunchy shreds of tangy and slightly spicy Green Mango Salad. The pale round rice puff that had been topped with minced pork that had been cooked in a coconut-based sauce. I felt the minced pork sauce was a little too thin, as it was slightly watery, to sit on the puffed rice crisp well. The Yum-ta-lay (Spicy Seafood Salad) was tasty but paled in comparison to the Pla-kung (Prawn Salad with Roasted Chilli Paste). The Yum-nua-yang (Spicy Beef Salad) was pretty tasty but the beef was slightly on the dry side and tough. Perhaps it had been cooked for a little too long. The Hor Mok Ta-Lay (Steamed Red Curry Seafood Mousse) was tasty but could do with a pinch of salt to lift its flavours. The Pla-kung  (Prawn Salad with Roasted Chilli Paste) and Yam-pla-duk-fu (Fluffy Catfish & Green Mango Salad) are Must-Tries!
Kor-Mu-Yang (Char-grilled Pork Shoulder with Thai Marinade)
& Kai-Yang (Grilled Chicken)
Image reproduced with permission from InterContinental Singapore
I was getting pretty full so I skipped most of the other items on the buffet line and made a beeline for the alluringly browned Char-grilled Pork Shoulder and Grilled Chicken. The juicy pork shoulder had a lovely sweetness and smoky flavour without a strong porky flavour. Definitely worth a try!
The Grilled Chicken thigh that I got was tasty and juicy although it lacked the rich, savoury and smoky flavour that the pork had. If you have to choose between the 2, definitely go for the pork. I didn't snap a picture of the Tom Yam Kung (Spicy Tom Yam Prawn Soup) as while it was nice, it wasn't something I would come running back for. Don't forget to try some of the steamed, fluffy and soft glutinous rice with your Char-grilled Pork Shoulder! Chef Surasak proudly declared that the recipe to cook the fluffiest and softest glutinous rice is a secret which he will not reveal but is happy to cook for all to enjoy. The grilled pork shoulder and glutinous rice is a Must-Try!
Although I'm not a huge fan of desserts, I do have a soft spot for some Thai desserts such as Tabtim Glob (Red Ruby - pictured in a bowl), Ta Ko (Waterchestnut Jelly topped with Thick Coconut Cream - pictured in the middle of the plate) and Khao Niew Mamuang (Sweet Sticky Rice with Mango - bottom right). The purple Kha Nom Puak (Steamed Yam Cake) was a little dry and rubbery, probably from being placed in the chiller for too long. The mango cubes on top of the sticky rice were also a little on the dry side from being placed in the chiller, perhaps a small dollop of lightly salted coconut cream would help to add moisture to the dessert. This is worth a try but do try to ask for some coconut cream if possible. The coconut cream on the Ta Ko was a little too bland, when it should have been a little salty to contrast the sweetness of the waterchestnut jelly.
Thai Dancers Performing at Journey Into Thailand's Opening Night
Graceful Thai dancers will be performing their craft on certain days. Please refer to the following schedule if you'd like to catch them in action:  4, 5, 11 & 12 October @ 8pm.
Thank you InterContinental Singapore for the kind hospitality and also for these lovely jars of handmade Thai snacks with customized name tags!
Journey Into Thailand at Olive Tree
From: 27 September to 13 October 2013 Time: 6 pm to 10 pm (Monday to Friday)              7 pm to 10.30 pm (Weekends & Public Holidays) Price: S$55++ for 1 diner, S$88++ for 2 diners, S$128++ per family (2 adults & 2 kids aged 12 and below) Supplement: Add S$15++ to enjoy free-flow of Chang Beer  
Olive Tree
InterContinental Singapore, 80 Middle Road,  Singapore 188966.
Telephone: +65 6825-1061
Reserve Online to enjoy a complimentary round of Chang Beer: 
https://www.facebook.com/ICSingapore