High Tea at W Singapore Sentosa Cove
W Singapore revamped its W T Time / Drop the T² High Tea set at WooBar some weeks back and I was invited to sample their new creations. Having taken the afternoon off, I found the view of the lush greenery around the pool and the yachts bobbing gently on the water in the marina particularly therapeutic after a busy morning. A nice change from the crowds during the monthly Endless Summer Pool Party. It was insanely hot that day, so I was glad not to be outdoors. Our seat next to the window gave us a lovely view of the sun-drenched pool without the heat and humidity.
'Drop the T

²

' High Tea at W Singapore
S$58++ per cage / 2 persons (weekday)  
Served in a decorative birdcage, the decadent high tea selection for two features ten savoury and sweet favourites that have been given a modern twist.
Guests can choose to pair their indulgent mid-afternoon bites with exquisite Dilmah fine tea which includes Dilmah Seasonal Flush Tea. Harvested only once a year, there are 2 varieties of Dilmah's Seasonal Flush Tea - Craighead Estate Fine Silver Tips and Opata Estate Flower Broken Orange Pekoe 1 (FBOP 1).
Pekoe Inspiration
Belvedere Lemon Vodka, Homemade Pekoe Syrup, Apple Juice, Seasonal Flush Tea & Cinnamon Dust  
I was intrigued by the Cold Drip Towers that had been set up on the bar counter. We were told that the Pekoe Inspiration cocktail had been shaken and strained before being dripped through fresh orange slices, grapefruit slices, spearmint and Seasonal Flush Opata Estate Flower Broken Orange Pekoe 1 tea leaves.
Although I've only stayed at W Hong Kong and W Singapore so far, my experience at W Hotels has always been rather fun because of their hip and funky vibe. Here's the Pekoe Inspiration Cocktail being served out of a round-bottomed flask.
The Pekoe Inspiration was light and fruity with a lovely hint of tannins from the tea. A refreshing drink, one could barely taste the Belvedere Vodka that had been added to the drink. Worth a try if you like vodka and tea.
Dilhan Fernando
Director of Marketing at Dilmah & son of Dilmah's Founder, Merrill Fernando  
Dilhan Fernando, Director of Marketing at Dilmah and Dilmah's Founder Merrill Fernando's son, explained the artisanal and traditional tea manufacturing process to us.
Dilmah's Seasonal Flush 2014 Teas
Dilmah's Seasonal Flush teas are produced in such limited quantity that there are only 300 tins of Craigshead Estate Fine Silver Tips and 600 tins of Opata Estate FBOP 1 tea available globally. Presented in a silver tin caddy, each tin of Dilmah Seasonal Flush Tea is numbered and signed by Dilmah's Tea Master, Gunasiri. Grab your tins at Dilmah's online tea boutique before they're sold out or savour them during High Tea at WooBar before they run out.
Craigshead Estate Fine Silver Tips
We started with the delicate tasting Craigshead Estate Fine Silver Tips. Light, fruity and smooth on the palate, this tea was handpicked from the bud of a special cultivar of the tea plant. A Must-Try! In contrast, the darker brown Seasonal Flush Opata Estate Flower Broken Orange Pekoe 1 tea was more tannic and heavy on the palate. I think it might taste better with milk to help to counter the astringent flavour of the tea.
This is a pretty hearty selection at a reasonable price. I guess I'd have to skip lunch the next time I visit. I loved the Tikka Inspired Salmon, Mint & Spice Poppadum (next to the sushi) because of the tender and moist fish that went well with the rich, spicy flavours of the authentic-tasting Tikka marinade. A Must-Try!
Torched Double Brie, Pickled Cucumber Nigiri
I love cheese, especially soft ones like Double Brie, Camembert and Vacherin Mont d'Or. When Chef Matthew Woolford told us about how he played around with flavours by torching double brie and serving it with picked cucumber Nigiri, I was sold! The Aburi Brie Nigiri Sushi was creamy, tangy and sweet and worth a try.
Twice Cooked Hen's Egg, Chili Crab & Mantou
Though I'm Singaporean, I'm not a fan of Chili Crab but I was curious about Chef Woolford's version. Essentially Scotch Egg with Chili Crab Sauce sandwiched between two halves of a deep-fried Mantou bun, this was quite an interesting dish. I was glad he didn't put copious amounts of sugar or tomato ketchup into the Chili Crab sauce so it was savoury and rich without the metallic flavour of ketchup nor was it excessively sweet.
W Crones with Pastry Cream & Topping
Passion fruit Butter,  Marmalade, Strawberry & Blackberry Preserves  
Chef Matthew had created his scone-based version of Dominique Ansel's Cronut that he's cheekily called Crones. I tried the Passion fruit Butter version which was tangy flaky and buttery but too sweet for my liking.
Fresh Berry Trifle Shot with Silver Tip White Tea Jelly
This dessert was made with Dilmah's Seasonal Flush Silver Tip tea. We had to dig down to the bottom of the bottle so we could get all the layers in one spoon. The tea jelly was delicate tasting and barely discernible because of the stronger tasting layers. I wished there was a thicker layer of jelly and less pastry cream and berry mousse layers for a lighter dessert.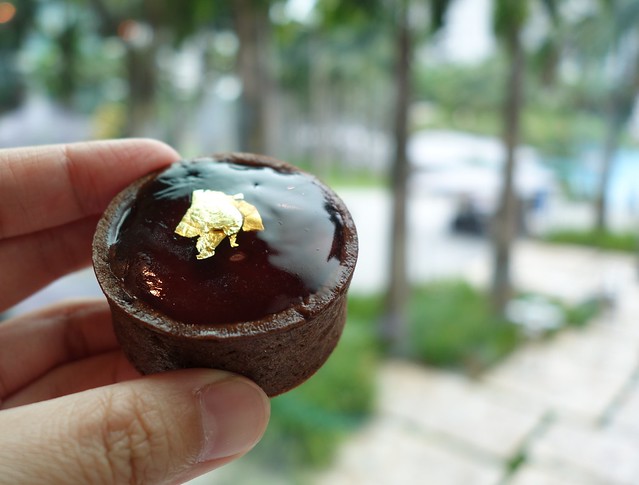 Chocolate, Foie Gras Ganache, Port Wine & Gold Leaf
The other items weren't much to shout about but this tart was my absolute favourite! At first, I was a little apprehensive because it's not very often you get a combination of Foie Gras and Chocolate.
Biting into the tart, all my doubts melted away. The nutty and crunchy chocolate tart base went well with the creamy foie gras ganache and the slightly sweet port wine jelly. The combination is made even more luxurious with a generous leaf of edible gold. Definitely a Must-Try!
W T Time / Drop the T² High Tea is served daily from 3 pm to 5 pm
Weekday:
$58++ per cage / 2 persons OR $98++ per cage inclusive of a half bottle of Champagne - serves 2
Weekends & Public Holidays:
$68++ per cage / 2 persons  OR $108++ per cage inclusive of a half bottle of Champagne - serves 2
WooBar
W Singapore - Sentosa Cove 21 Ocean Way,  Singapore 098374
Phone: +65 6808 7258
Reserve a cage
Book your table online on spg.com/restaurantsandbars
Email: 
woobar.singapore@whotels.com
PS: Thank you, W Singapore & Vibes Communications, for the hospitality