World Gourmet Summit 2014: Eu Yan Sang's Herbal Dinner, 31 Mar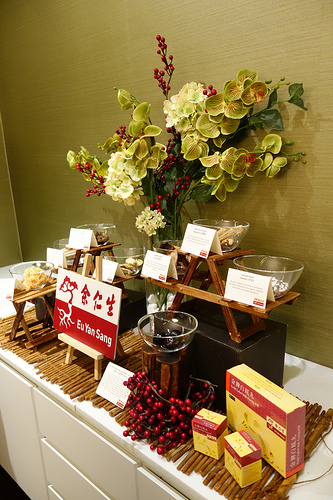 Last week, I was invited to a preview of World Gourmet Summit 2014's Eu Yan Sang Dinner featuring the cuisine of International Masterchef Arron Huang and Hosting Chef Yong Bing Ngen.
The six-course wine-paired dinner menu, featuring high quality premium herbs, was put together by celebrity Masterchef Arron Huang from Taiwan and Majestic Restaurant's Chef Yong Bing Ngen. It will be available for one night only, 31 March 2014, at Majestic Restaurant during World Gourmet Summit 2014.
 Fried Roast Duck Breast and Shrimp with Chinese Angelica and Licorice
嫩煎鴨胸鮮蝦佐當歸甘草醬汁 by International Masterchef Arron Huang Paired with 
2010 Pinot Gris, Hugel Tradition
I love Chinese herbs so I enjoyed the slight bitterness of the Chinese Angelica in this starter. The Roast Duck Breast was just a little too dry but that was helped by the herbal sauce that was drizzled over it. The juicy shrimp fared better.
Double-Boiled American Ginseng Soup with Wolfberry, Whole Conpoy & Fresh Oyster
美国泡参炖干贝生蚝汤
by Hosting Chef Yong Bing Ngen
Paired with 2012 Gentil, Hugel Classic
This was one of my favourite dishes during the preview lunch. This soup was chockful of Ginseng goodness with a savoury flavour imparted by the conpoy and a fresh French oyster as well as some sweetness from the Wolfberries. A Must-Try!
King Prawn with Tangerine Peel and Licorice Dressing
陈皮甘草酱烧大虾皇 International Masterchef Arron Huang
2011 Gewurztraminer, Hugel Classic
This was my least favourite dish as I didn't like the sweet sauce that overwhelmed the natural sweetness of the King Prawn. It's all a matter of preference as some of the other diners at the lunch seemed to really enjoy this dish.
Baked Sea Perch with Notoginseng Root and Astragalus Root
田七黃耆焗烤鮮魚 by Hosting Chef Yong Bing Ngen
Paired with 2007 Riesling, Hugel Jubilee
Served on an Opeh leaf that has been fashioned after the bow of a traditional fishing boat, this was my favourite dish! The succulent chunk of Sea Perch had a touch of delicate bitterness from the Notoginseng Root, an ingredient that makes excellent tea, and a slightly caramelized soy crust. A Must-Try!
Stuffed Black Bone Chicken Roll with Eu Yan Sang Gold Label Bak Foong Pill,
Codonopsis Root, Brown Rice and Solomon's Seal Chicken Jus
白凤丸竹丝鸡卷糙米饭伴党参玉竹鸡汁
by Hosting Chef Yong Bing Ngen
Paired with 2009 Pinot Noir, Hugel Classic
The pièce de résistance featured Eu Yan Sang's flagship product, the Gold Label Bak Foong Pill. Stuffed within the skin of the black chicken was brown rice and juicy chunks of chicken that had been perfectly infused with the bittersweet flavour of Chinese herbs. I found myself savouring every drop of the chicken jus too. A Must-Try!
White Tremella Mushroom Herbal Tea with Eight Treasures
Coix Barley, Gingko Biloba, Euryale Seed, Honey Date, Boat-fruited Sterculia Seed, Wolfberry, Longan and Fresh Lily Bulb
银耳炖八宝茶银耳/ 薏仁/ 芡实/ 圆肉/ 蜜枣/ 杞子/ 海榄/ 银杏/ 鲜百合 by Hosting Chef Yong Bing Ngen
Paired with 2005 Gewurztraminer, Hugel Vendange Tardive
Essentially a luxe and nourishing version of Chinese Eight Treasure Tea and Cheng Tng (a traditional Singaporean dessert), the ingredients were plated on a slate with the herbal tea taking centre stage. A nice twist to a local favourite, this dessert was not too sweet and the ingredients that had been carefully plated added an interesting mix of textures to the dish.
Date:
31 March 2014
Venue:
PS: Thank you, World Gourmet Summit and Fulford PR, for the kind hospitality.